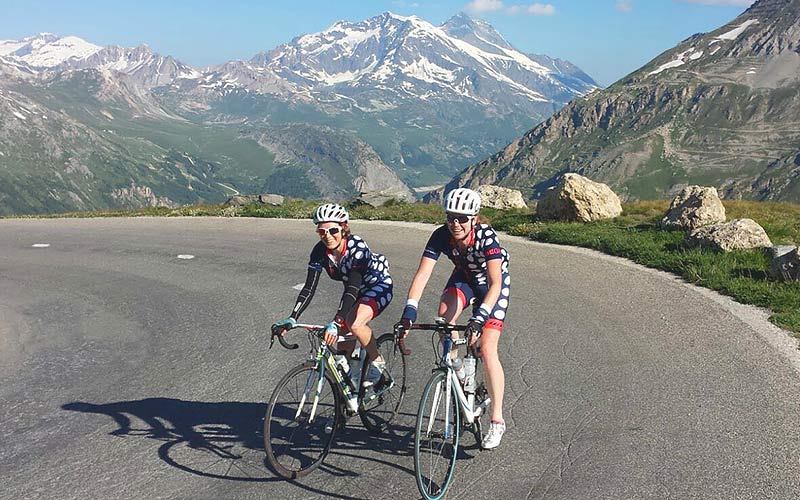 Le Tour de France
In the early 2000's, I was bitten by the Tour bug, spectacular scenery and famous climbs such as l'Alpe d'Huez and Col du Galibier. I boxed my bike for trips to France three summers in a row, and fell in love with both the riding and the country.

After the Tour de France 2003, my cube at the office became less and less inviting, and I began plotting adventures to share with fellow two-wheeled trailblazers.
And so Dude Girl began...Rooted in the spirit of the Old West and in the story of my grandmother's two-month trek on horses with girlfriends, it was reborn in 2003 as an adventure travel company for avid cyclists. 
The clothing brand has grown to exemplify the heart, passion and colorful spirit of adventuresome cyclists, athletes, and outdoor lovers. We design cycling kits and t-shirts inspired by our travels and the meaningful experiences along the way, and we offer them to you for your own intrepid journeys and joys of the trail or road you choose. Our Dude Girl Dots kits exemplify all the passion and joy I feel for the Tour and the yellow and polka dot jersey battles waged on the course. 
To this company—and to you—I bring my heritage; my love for sports; my desire to share inspiring outdoor adventures with friends; and the clothing to do it in.
Let's Ride.
The Polka Dot Jersey

The Tour was exceptional in almost every way: The rolling party. The epic, lung-scorching climbs, the thrill of cheering our cycling heroes up the mountain... so close you could touch them. Le Tour de France is an event where everyone has a front row seat. I think this is precisely why it is so spectacular.

I've always loved climbing. The challenge -- the time it takes to be good at it, the critical difference in final tour standing between a great climber, good climber and non-climber. The red and white polka dot jersey is a symbol of the best climber of the Tour; however, the yellow jersey would not win the Tour without exceptional climbing abilities. I've always equated yellow with polka dot + additional strength and talent. For me, it's as if the polka dot is secretly worn underneath the yellow.

I designed the first Dude Girl polka dot jersey as a celebration of my love for climbing on a bike. It has changed over the years, but it is still the most impactful kit on the road -- you can't miss it. It draws hoots and hollers and fist pumps and cheers from fellow cyclists and drivers alike. Seriously, folks, our Dots kit is magic.