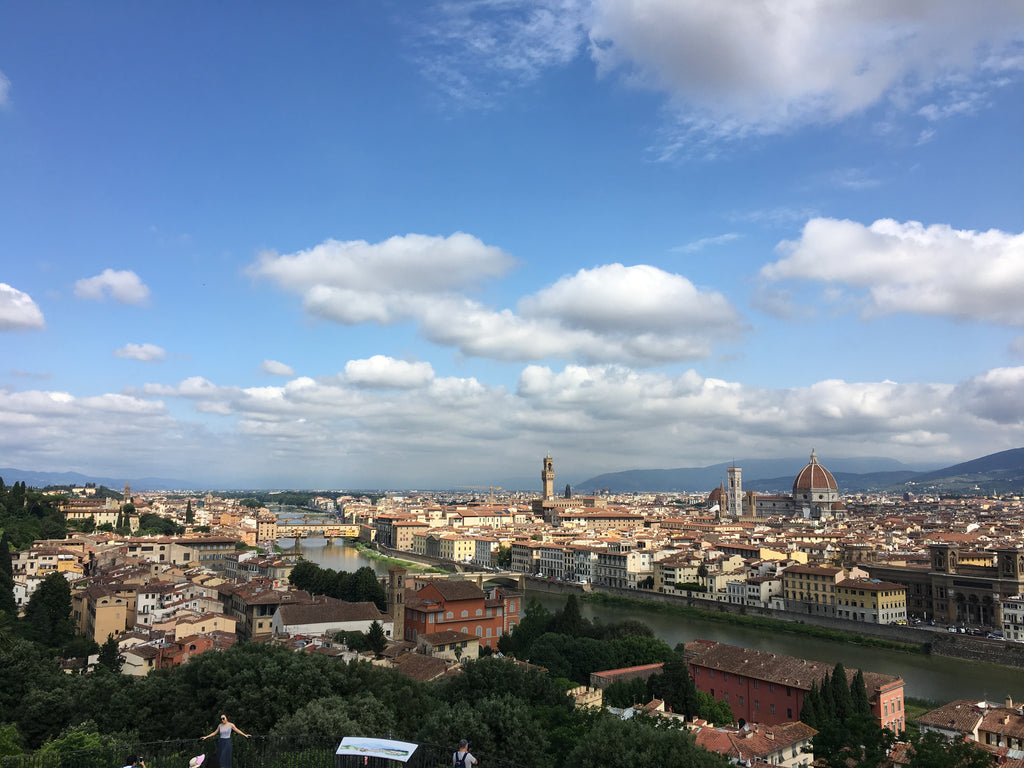 BEFORE THE BIKE RIDE, COFFEE. Just Add Ginseng.
Paula got a jump-start on the European coffee scene in Zurich during our stop-over. But we both are excited for our official coffee-kick-off our first morning in Florence. Imagine a time-lapse video of two girls waking-showering-dressing-searching-arriving at coffee shop. That was us in real-time. Eyes open... Boom! There we were at the coffee counter, ordering our first espresso in our strained, mechanical Italian. Paula went straight for the Ginseng Espresso -- the debut of an 8-day Ginseng Coffee streak. Soon, Paula would morph into the Ginseng Coffee pusher for our group; she even became interested in Ginseng Coffee Machine. When will they arrive in America? Paula wants to know.
One coffee down and we head to... our second coffee shop. I mean, we are in Italy. And we're really excited about Italian coffee. Especially after the ginseng. At the next shop, we add pastries, my personal obsession.
Jacked on Florentine Ginseng Coffee and weighed down a bit by a pastry -- or maybe it was that ham-n-cheese on a cornetto (croissant) -- we carried ourselves inside the old walls of Florence and discovered an small outdoor fruit-and-vegetable market. Another opportunity to practice our Italian landed a peach or two and an apple in our sacks.

DOMO BEFORE CHIANTI
Our guides greet our friend Susie and us for our ride to the countryside and official start of our cycling tour. Lorenzo, chooses the long way out of town... we putter through a beautiful neighborhood, up a winding cypress-lined road to a high perch above Florence that causes all of us to take a deep breath. We stop and enjoy the famous Domo! And the beautifully patina'd Jewish synagogue! The Arno River! Ponte Vecchio, the covered bridge from ancient times. It's all right there! And it is here that Lorenzo first introduces us to the story of the proud black rooster of Chianti and its victory over Siena's white rooster. So much history offers itself up to us from below. Exquisite. 
This place and this moment commences an unstated official beginning for our cycling journey. In our city overlook we take the signs off of our van for a branded photograph of our small-but-growing group: Welcome to Field Trip by Dude Girl's first Tuscany Cycling Adventure!

OUR FIRST HOTEL and a BIKE RIDE!
An ancient village re-purposed into a hotel. That's our hotel! And ancient village!

Settled and re-dressed, everyone emerges in lycra for our shakedown ride. It's hilly.  It's lovely. It's Tuscany.

Pre-dinner cocktail hour becomes a forum for favorite cycling stories with our new friends. That's one thing about cyclists: we all have memories of "that one ride." As we nibble on bruschetta and sip champagne, we are soon regaling, embellishing, laughing. Andy's full-bonk, deep-into-the-wee-hours tale has transformed the group in just a few minutes. Alyse follows with a "tragic" story about shopping for her first new bike, paraphrased here: Shopping with her Dad for her first bike, Alyse spots a pretty blue one, which is girly and far from a lithe, athletic-leaning machine the her father envisions her riding. Alyse is set on the "fun" blue one.  Disappointed, Dad tries to dissuade her from the pretty, fun, blue bike. He encourages her to have a "real" bike. Deadlocked, they go home empty-handed. The Blue Bike shopping adventure is now a full-blown distaste of cycling for Alyse, who has come, instead, to enjoy her family and the food. And to learn how to drive a stick-shift! We do it all here on our Field Trips! 
Please join us in September. 
We may have an October option as well!