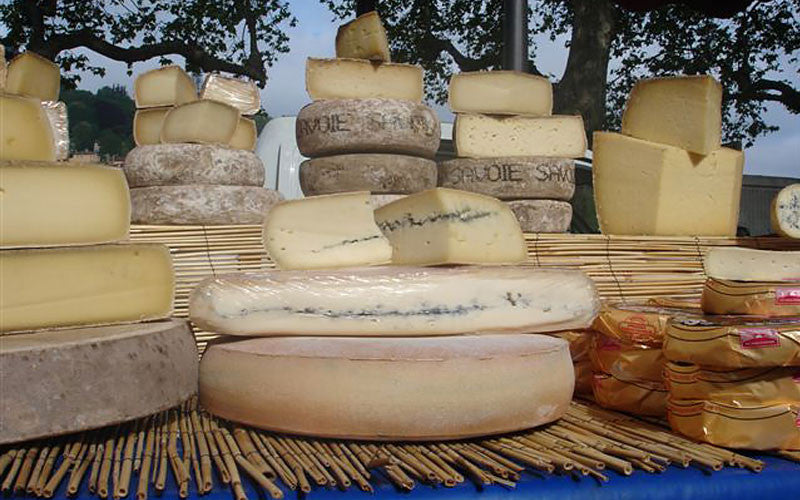 [This post was written and originally published May 2005.]
I hope our guests will spend a day wandering Lyon before the trip begins. Today we literally ran into the Farmers Market on our circuitous river crossing run — back and forth across the Saone was lots of fun on foot and beautiful!




To finish our run we tracked back through the market and loaded up on Strawbabies — veritable sugar bombs. Andy laughed at how overcome I was by their sweetness! Two Brioches au chocolate to wash down with plus forte French coffee. At French Farmers' Markets I always wish I was going home to cook for friends and family so I could load up on fresh artisanal cheeses, glistening produce, confiture (jams), meats, local fish, and fresh cut flowers.




Alas, we left it all behind for a hike to the Basilica overlooking the City. Impressive sight from on high as well as from below. Back at the hotel, we settled into our afternoon work while sipping champagne and nibbling on canapes — one of my favorite parts of the day in France. Our concierge, Gerard, helped us find the perfect restaurant for our mood this evening — a book store bistro with wonderful food and wine list. Noix St. Jacques — scallops crusted with peanuts and served with rhubarb sauce — was my choice. Andy had baked Turbot fillet (fish) with jumbo white asparagus. We shared a dessert that was a magic concoction of Strawberry Rhubarb, layered shades of pink and red and cream — enough talk about food. I'm hungry again!
Running through the Farmers' Market
Lunch at Cafe Epicerie — simply spiced terrines and salad
Climbing the stairs through the Rose Garden to the imposing Basilica
Champagne and Canapes while Blogging
Dinner at a Book Store? YES! Le Caro