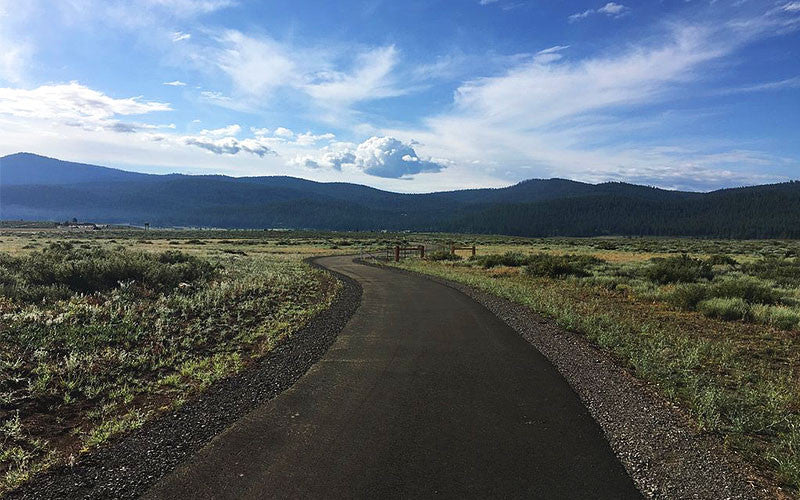 Less that two weeks to go before we depart for France. Some have been training for 6 months. Others for just two. Yes, I'm cramming. 
Cramming is painful. And nerve-wracking (Will I be in good enough shape?). But let's get a little perspective... cramming for a cycling vacation in France involves incredible views, high mountains, lonely little country roads, visits to out-o-the-way towns, coffee shop and bakery visits, good company (or none), physical exhaustion, incessant appetite... Really, it's about as good as it gets.
Two weeks ago, I left my cozy abode early, and with a belly full of oatmeal, nuts and berries, launched myself into the brisk morning Tahoe air. It was going to be a long day in the saddle.
Up and over Brockway Summit. 1 climb down. Descending into Kings Beach, Lake Tahoe was beautiful! 
By the time I reached Tahoe City, I was hungry. So I paused for a 2nd breakfast (breakfast bagel sandwich) and then launched for Alpine Meadows.
Nobody was home. So turned around to head to Truckee. Next up: Old 40 up to Donner Summit. Storm clouds were rapidly approaching so I raced to beat them. Did so, but not by much... such a stunning play of light (and wind) on the lake and the surrounding granite, as the leaden sky billowed over the summit.
One last kicker for the day -- Walter met me at the bottom of the Northwoods to be my chaperon on the final hill. Was so happy, in my 6th hour on the bike, to be met with fist-pumps and cheers about what a champion I was. We pushed home with whatever power was left in my legs. Felt good to have a long ride in the bank, and not be completely wrecked. This will serve me in France, where we will see a number of days like this one.
And then there was this, thanks to Chef Tim Cronin:
Perspective.