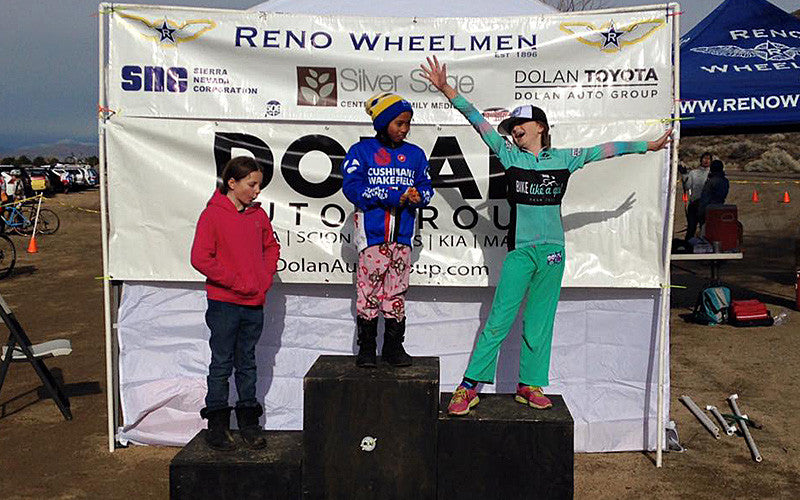 Since Dude Girl began, I have wanted to build a brand whose meaning extends beyond the mere sale of clothing. Clothing is beautiful, fun and a way of communicating who we are to the world. When it can serve a bigger mission of empowering young women, that's when it becomes meaningful.
I met Sian at a mountain bike race in Truckee one summer… You might recognize Sian Turner Crespo as one of our Dude Girl models. Sian and our photographer captured the essence of Dude Girl on a crisp morning climb last Fall in Truckee. Also an engineer, Sian is one of the co-founders of Bike Like a Girl, an organization dedicated to the betterment of girls through education, joy and benefits of cycling. Sian shares her co-founder title with Julie Young and Michelle Faurot.
You also might know that I am a Tour de France fan, so it probably won't surprise you that my favorite accolade of the incredible Julie Young, owner of O2Fitness, is her Overall General Classification victory of the 1992 Tour de L'Aude, France — the women's equivalent of Tour de France. I met Julie this past spring and quickly learned that she possesses the great qualities of humility, kindness and ease with others. She exudes positivity, an understated confidence, and genuine joy. Julie's belief in you is so strong that you begin to really believe in yourself! Isn't that what the best coaches do? Julie had long been ruminating an idea of sharing her joy and passion for fitness through camps for girls...
Enter
Michelle Faurot
who was searching for a cause after founding an eight-woman Race Across America Team in 2015. Michelle's team stomped a new course record, riding their bikes from Oceanside, California to Annapolis, Maryland
in 6 days
, 12 hours and 58 minutes!
These three fit and fast ladies met and Bike Like a Girl was born! As founders, they established a mission, beyond racing and training, to teach girls about riding their bikes, and to use those bikes to educate about self-confidence, commitment, mental and physical health and well-being, safety, science and engineering, and most of all joy!
Bike Like a Girl is about empowerment and inclusion, aimed at helping girls build skills for success, and that allow them to tackle any the myriad of life's challenges. Every girl should have the opportunity to discover what can be learned from the simple act of riding a bike.
Stay tuned for the number of ways we'll work with Bike Like A Girl. But one of the first is this: We have extended our signature Dots design to this year's Bike Like a Girl team. Not only will the team be training and racing in this new
Bike Like a Girl Dots Kit
, but the Limited Edition kit will be available to YOU for purchase, starting today. Place your pre-order today for arrival in July! A portion of proceeds from sales of this kit will go toward Bike Like a Girl.
Juniors Jerseys coming soon — Let us know if you are interested using our
Contact Form
!