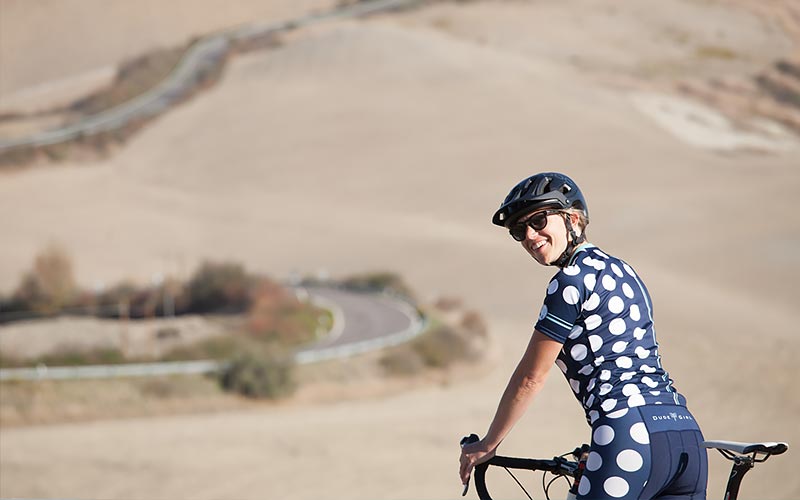 All the events we attend are fun, challenging, and typically in picturesque parts of the country. But if we had to choose, here are the Top Five (ok, six) events that we don't want you to miss:
1) TUSCANY, ITALY - JUNE 5-12
Because, Tuscany. And riding in Europe -- in Italy -- really is different than riding in the States. And the food. And the wine. And our guide who calls these roads home! It will be extraordinary.
2) CAMPOVELO, NAPA - APR 27-29
This is one of our favorite events of the year. Beautiful Napa Valley! This one-of-a-kind event is designed and organized by one of my favorite cycling sisters. A luxurious weekend of beautifully organized activities, decorated with celebrities from the worlds of cycling, food and wine. All of them are approachable and here to add to your fun! You won't regret paying for this one -- it's special.
3) IRON HORSE DURANGO - MAY 25-27
Our foray for the season into Colorado's Rocky Mountains. My Dude Girl Grandmother rode into these towns on horseback. This fact, and the extraordinary beauty of these big peaks takes my breath away. This event is special because we start downtown Durango on Friday, move to Silverton on Saturday and then back to downtown Durango on Sunday. It's beautiful. And a hoot! And a toughie on the heart, lungs 'n legs.
4) RIDE THE ROCKIES, CO - JUNE 9-15
When I'm in the Rockies, I feel like I'm in love. I guess I am. These big passes and peaks will break your heart wide open! There just isn't anything like it! Let's Ride the Rockies!
5) TRIPLE BYPASS, CO - JULY 13-15
Well-organized event run by a great group of people! Last year the event was cancelled due to forest fires, but the team impressively reconfigured and rallied for alternate routes, etc. Announcer kept me smiling all day, the food was delicious, the community fit and fun! You can opt for the one-day or the two-day ride option!
6) TOUR de TUCSON - NOV 16, 17
It begins to chill this time of year in most parts of the country, but Tucson remains nice and toasty. I love this event because it's the last of the season and a farewell to cycling events for the year. The desert is gorgeous, serene. This is the time to be here on your bike! You will revel in your short-sleeves. Promise. Maybe take a spin up Mt. Lemmon one day before or after the event! Who can resist?!
Contact us if you have questions about these or any other events on our calendar!