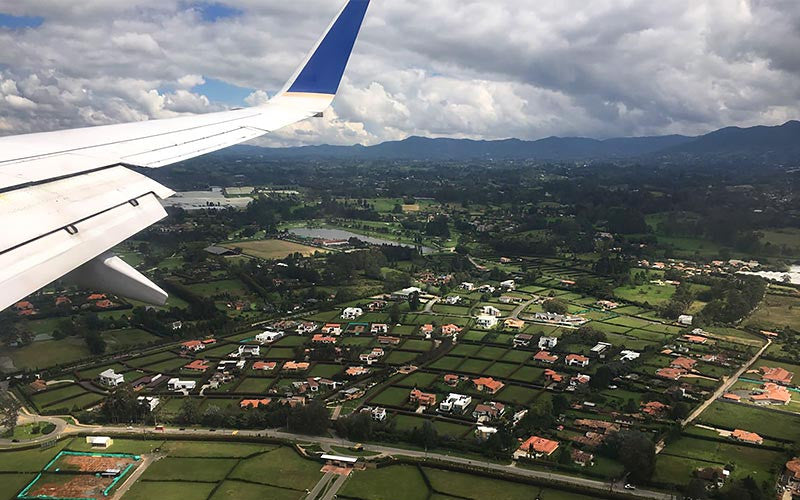 We have arrived and are filled with as much anticipation tonight as a child on Christmas Eve. Denise stated tonight as we tucked ourselves into bed: "It's better than I ever imagined!" Already.
We were greeted at the airport by Tomás and were whisked away into an enchanted Colombian household-turned-boutique-hotel. Already giddy at the prospect of being in a foreign land, with bikes, I don't think either of us stopped gasping and elating with every step into this beautiful place. This fall we will stay here for 3 nights, but this trip we're here for just one.
Everything about this place is beautiful... a vibrant, colorful, manicured garden; a spacious, delightfully appointed bedroom with balcony. A huge bath tub with views of the garden and a grand shower with a drenching waterfall shower head -- key after a long flight. It feels as if nothing has been spared. In the back of our minds, we consider the riding we'll be doing the next several days. Having a retreat such as this in which to recover from each day's exertion offers a sense of comfort beyond the obvious design and decoration.
"El almuerzo está listo señoritas," chirped the Whatsapp message from Tomás.


Down in the garden, Tomás and Marcéla welcomed us with the most refreshing "green drink." Our first elixir.  The heavy, dingy stickiness that follows one off an international flight seemed to disappear with a bright lemonade drink, the tart juice from a grafted tree in the garden that yields three kinds of lemons, flavored with mint and tarragon. A perfect cleanser and tonic before lunch. We sipped and reviewed the plan and maps for the next 10 days.
Then we were blindfolded! For a fun game of tasting a special passion fruit sprinkled with brown sugar. Not the brown sugar we know. These were larger crystals, very hard which added crunch and texture to the sweet, soft fruit inside. 
After reviewing the itinerary, we shared a bottle of wine -- the four of us -- as we ate a typical lunch of brothy chicken soup with three kinds of potatoes. And were surprised by a dessert of figs (that grow on a bush instead of a tree), quartered not quite all the way through and stewed in a special syrup with cinnamon sticks. These whole almost-quarterd figs are served in a small bowl drizzled with cream. They taste almost exactly like pumpkin pie! Delicious!
The afternoon sun set over our wine and conversation and we moved inside to the warm kitchen of the spirited Colombian chef (also owner of the hotel), Luz-Marina. Almost immediately, Luz-Marina and I discovered that she had lived in not only my very same town, but my very same apartment building 30 years ago! It was one of those moments that again registered for me how important it is to get out of our comfort zones and travel the world and meet others. We are all far more connected than we imagine.
So today we ate, and allowed ourselves to be cared for. It felt complete and rich, as it always does when you are surrounded by amazing people, new friends, the anticipation of days to come, and so much learning. It was delightful and restorative. We will need it tomorrow.