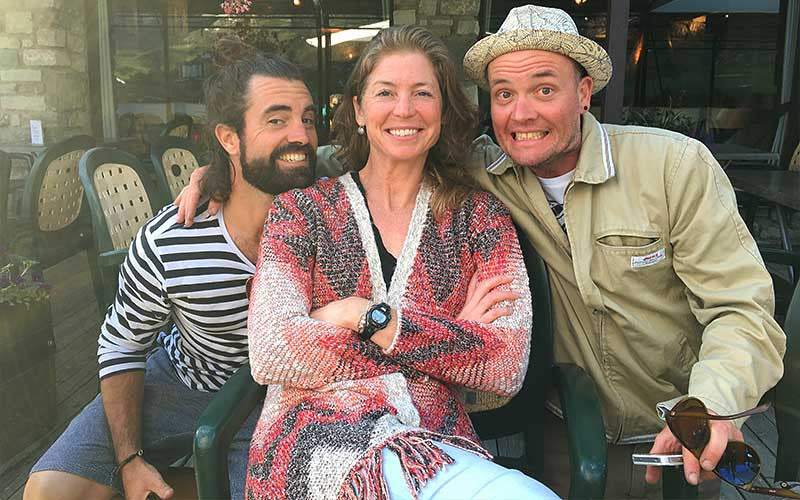 A week ago Monday I departed Lyon, France bound for San Francisco. My body was happily fatigued after twelve days of cycling in the French Alps, but my heart felt as heavy as the plane trying to free itself from the tarmac. 
The trip home was fast, though I was sure we were dragging French space-time along with us. It reminded me of a life-changing trip in 2004, where my heart felt so full and so broken at the same time. Twelve years after that fateful first trip, I'm so darn grateful to be organizing these trips, working with my French family, Johan, Clem, Pierre & Colette and Johan's soon-to-be-wife Marie, and sharing these adventures. 
This year's cycling trip in the French Alps was incredible. So many dear friends—new and old, so much laughter, so much riding, so much dining, cheese-eating, climbing… and "clem'ing." I'll give an overview in this first blogpost, but will write about each of our 12 days of riding in the Alps. I wish I could bottle every moment.
This year's trip was book-ended by the airlines losing a few of our guests' bikes on the front end, and by a fabulous, long, hard, hot Tour day up Col du Grand Colombier where we watched and celebrated a strung-out pro field heave themselves over the summit. This last day was capped off at the home of Pierre & Colette Ludi. We arrived at their home sweaty and tired, and were welcomed with cold drinks and a bowl full of fresh, succulunt pieces of cantaloupe (it never tasted so good) before a delicious dinner in their garden. And we tasted/tested "the wedding drink" of Johan and Marie's upcoming wedding. Just to make sure the ratios were right and all that.
In between were all kinds of greatness:
We cheered (at the dinner table) for the return of Baby Bleu – Lori's bike was lost by the airlines for three days before being returned the day our trip began!
People got lost too! After an unintentional detour on our first ride, we embraced a Frenchman who helped us find our way... with a kiss. Of course.
We delighted (with much respect) to the late-night arrival of dear friends Amy and Jeremy Wolf (Amy is one of my besties from college!) who rode from Switzerland over three Alps-sized passes to meet us at our hotel near Beaufort – their backpacks laden with cute dresses, gifts and an enormous Toblerone. Let's just say it was a huge day of riding, without packs on your back!
We high-fived climbs that make you go "Mmmm." Col d'Iseran, a new climb for me and now a favorite – awesome in every way. The classics: Col de Telegraphe, Col du Galibier, l'Alpe d'Huez, Mont Ventoux. Our finale ride on the Col du Colombier the day of Le Tour de France was a day-long party!
We quenched our hot, tired bodies with mid-ride dips in roadside creeks. And a post-ride group soak in a village water trough! YES.
And there was also a lot of "Clem'ing," a word coined after following our good friend and French guide, Clem, on the bike. Clem'ing is the act of blowing by a turn marked on our Strava routes, subsequently realizing it, and then having to backtrack to the missed turn -- usually all-uphill. "We clem'ed it!" became a familiar phrase. 
Not long after my friend Paula and I landed in San Francisco, we received this photo (with caption) from our friend, John Knill, as he neared his home destination in Denver: 
"Apparently I had Captain Clem fly me home."
Clem'ing doesn't quite describe my return trip home. I'm looking for a full-fledged return to les Alpes. No matter how much climbing.